Contact
1st floor, Engineering Building #8

+81-3-5841-6032 / 1678
Mon.-Fri. 9:30-12:00, 13:00-17:00 工学部8号館1階

03-5841-6032 / 1678
月曜日~金曜日9:30~12:00, 13:00~17:00
Student Exchange Program 交換留学
ESEP2021
Engineering Summer Education Program, School of Engineering, UTokyo
The ESEP 2021 program will not be able to be held in Japan 2021 due to immigration restrictions and quarantine measures dating through March 15, 2021.
The summer program at School of Engineering at the University of Tokyo, called ESEP (Engineering Summer Education Program), is an opportunity for undergraduate and graduate students to participate in scientific research projects at world-leading laboratories at the University of Tokyo. We offer three types of programs as follows: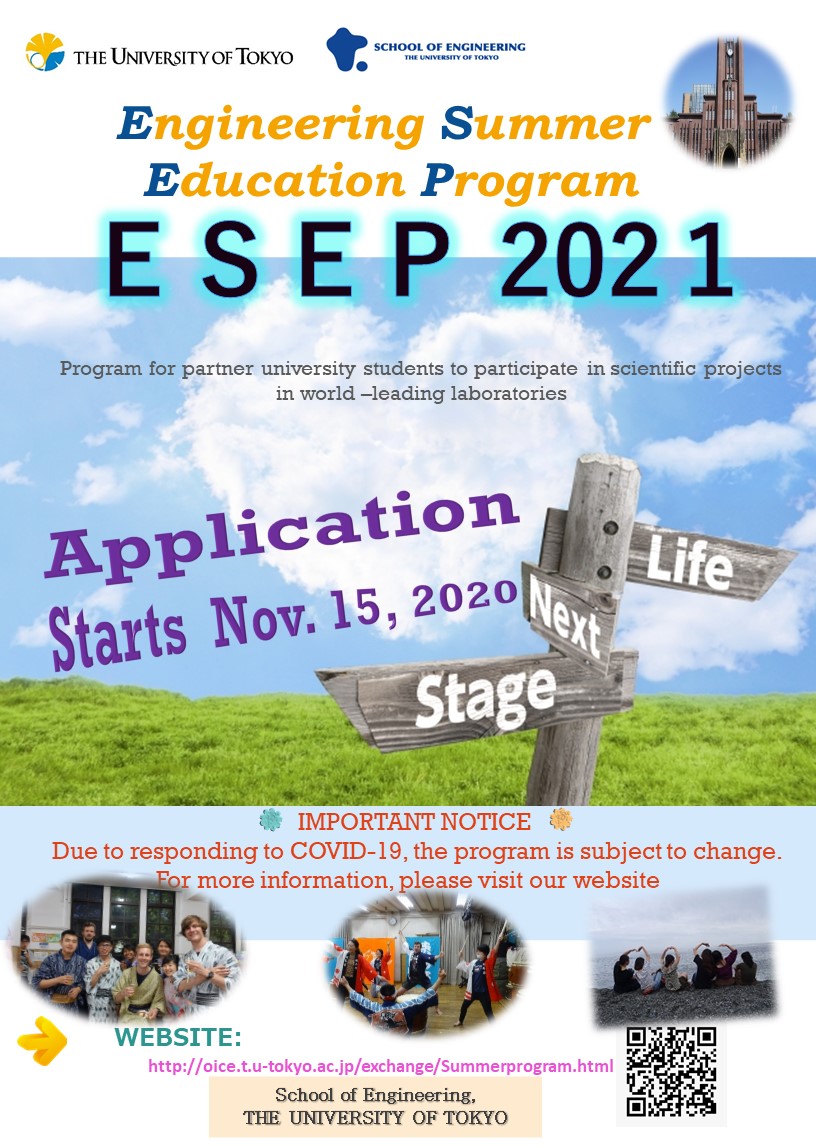 ESEP-G is the general program for our partner universities' students from around the world.
(List of partner universities and designated institutions for ESEP-G 2021)
ESEP-INDIA is intended for students from collaborating Indian institutions.
(List of partner universities for ESEP-INDIA 2021)
ESEP-UC is intended for students from the University of California.
Click here to see the past events details:
Call for ESEP-G and ESEP-INDIA
Important Notice regarding COVID-19
If the travel restrictions and quarantine measures due to the influence of COVID-19 are still in effect as of March 15, 2021.

1. Students from the relevant country/region are NOT allowed to come to Japan. There will be no postponement nor re-opening.

2. Only those laboratories offering both in-person and online courses will allow students to switch from in-person courses to online courses upon confirming their intentions with the host supervisor. No scholarship will be paid for students taking online courses.

3. The scheduled events such as Japanese culture classes and tours will be subjected to change.

Eligibility & Requirements

Applicants must be full-time students enrolled at one of the partner universities listed above.

ESEP-G
ESEP-INDIA
・Undergraduate students

Have completed at least 2 full years in a bachelor's degree program before the program starts

・Graduate students
・Undergraduate students

Have completed at least 3 full years in a bachelor's degree program before the program starts

・Graduate students

Applicants must:

participate in the entire duration of the program

have high rated academic performance and a high level of English proficiency
have a strong interest in pursuing a Ph. D
remain enrolled at their current home university during the program period. When an applicant is in the last year of their degree program, we will check whether the graduation will be taken place after the program ends, and check the result of enrollment at the partner university's graduate school
not have joined this program before
make a final report and submit it to School of Engineering at the conclusion of the program
secure overseas travel insurance in their home countries before coming to Japan. The insurance must cover liability insurance as well
refrain from attending other courses and being employed
respect the work of all laboratory members and participate in activities in the laboratory
understand and agree with the important notice regarding Covid-19

Program outline

ESEP-G
ESEP-INDIA
Duration
June 7 - July 16, 2021
May 17 - July 9, 2021
Capacity
Up to 20 participants
Up to 10 participants
Place
At HONGO main campus (in principal)
Application period
15:00 on November 15, 2020 - 15:00 on January 8, 2021 (Japan time)
15:00 on November 15, 2020 - 15:00 on December 18, 2020 (Japan time)
Announcement of selection
Around March 10, 2021, by e-mail

・ To students who are eligible to apply for ESEP-INDIA

To maintain fairness with other applicants, please only apply for either ESEP-INDIA or ESEP-G. You are not able to apply for both programs. Thank you for your kind understanding.

Host labs

Students will be hosted by one of the laboratories listed below. Any special academic requirements for training in each lab are also indicated on the list.

List of Host Laboratories (ESEP-G 2021)

List of Host Laboratories (ESEP-INDIA 2021)

Financial support

Based on the ESEP Scholarship guideline of the School of Engineering, The University of Tokyo, JPY 160,000 (JPY 80,000 monthly × 2 months) will be provided to participants who meet the following requirements. The scholarship will be paid on a monthly basis in cash.

participating in the entire duration of the program
staying in the accommodation (see Accommodation below) provided by the program
attending all required activities and social events
submitting a final report to the School of Engineering at the end of the program
respecting the work of laboratory members and cooperating with them

NOTE: Participants must bear the following costs:

Air ticket (round-trip ticket)
Overseas travel insurance and liability insurance*
Visa fee, domestic transportation fee 
Daily commuting expenses for coming to campus from the accommodation
Everyday living expenses

*The selected students must be covered by their own travel insurance for the entire duration of their stay in Japan and must submit copies of their insurance policy to the contact office stated in Contact.
Accommodation
Designated accommodations will be provided to students. The details of such accommodations will be announced after the selection process.
Application
Applications are only accepted via the online application system T-cens First, you need to create an account and ID to start filling it in.

https://t-cens-sp.adm.u-tokyo.ac.jp/t-cens_sp/login.php

Please refer to Important Notes for your T-cens application.

Required documents to upload
Photo (jpeg): must have been taken in the last 6 months

Photocopy of the photo page of your valid passport (jpeg)


Photocopy of your current student ID card (jpeg. file)

Official certificate of current enrollment

Official Undergraduate academic transcript (both undergraduate students and graduate students)

Official Graduate academic transcript (graduate students only)

Test scores report

(IELTS/TOEIC/TOEFL/ other external tests)

Exemption: those whose nationality is USA, UK, Canada, Australia, New Zealand, Ireland or currently enrolled at a university in those countries and students of ESEP-INDIA.

Personal statement (designated form for ESEP-G)
Personal statement (designated form for ESEP-INDIA)
NOTE: Submitted documents should be clear and readable.
Contact
Office of International Cooperation and Exchange (OICE)
School of Engineering
The University of Tokyo
7-3-1 Hongo Bunkyo-ku, Tokyo, Japan 113-8656
TEL: +81-3-5841-7791
E-mail: seutpro.t@gs.mail.u-tokyo.ac.jp
FAQ
Before contacting us, please read the above description and these FAQs carefully. The information listed in this page will help to answer most questions.

Q1: My university is not listed on the List of Partner Universities. Am I eligible to apply?
A1: No, we are sorry, but students attending at other than the listed universities are not eligible to apply.

Q2: I will not be able to start the program on the first day, because my university term will not yet be over. Can I delay the start date?
A2: No, everyone participating in this program starts and ends at the same time together.
This program has a "No late arrival and no leaving early" policy.

Q3: Do I need to contact the potential host professor at the University of Tokyo?
A3: No. The selection will be completed using the submitted documents. Please refrain from contacting the host labs yourself.

Q4: I would like to see some of Japan before the program starts. Can I arrive in Japan earlier?
A4: Due to the spread of COVID-19, we strongly request a schedule centered on program activities. Nevertheless, if you plan to come earlier, make understand that it is not possible to visit our school before the first day of the program, you have to arrange accommodations by yourself during that period, and the University of Tokyo will not issue any official documents for getting a visa for your personal visit.

Q5: Is Japanese language proficiency required?
A5: No, Japanese proficiency is not necessary.

Q6: How do I submit my letter of recommendation?
A6: Letters of recommendation should be uploaded to the T-cens system directly by your supervisor. Ask your supervisor for the letter well in advance, and please notify him/her that they will receive an E-mail from the T-cens system automatically and ensure they received it without it going into their junk E-mail folder, etc.

Q7: Does my supervisor have to use the designated template for the letter of recommendation?
A7: No, it is not compulsory. Your supervisor can use either the sample template provided or write it free-form.

Q8: Can I see any experiences from past participants?
A8: You can see past experiences in "Students' Voice".

Q9: What information do I need to fill in the Form 2 Additional Comments?
A9:You do not have to fill in Form 2. Leave the form blank.

Q10: How many recommendation letters do I need?
A10: One recommendation letter is sufficient. Please refer to "How to upload a letter of recommendation" for more information.